JANUARY/FEBRUARY 2021 LATEST NEWS

IMPORTANT NOTE: BEGINNING JAN. 25, 2021, SHRINE APPARITION ORATORY TO CLOSE FOR THREE WEEKS FOR HVAC UPDATE
Daily Eucharistic Adoration, Special Sunday Post-Mass Eucharistic Rosary Procession and Sunday Family Rosary Series Offered at Champion Shrine
With the addition of the newly-paved Rosary Walk at the National Shrine of Our Lady of Good Help, we will continue our Eucharistic Rosary Procession outdoors, weather permitting, throughout the winter months  now in 2021 at Champion Shrine following 11 AM Mass each Sunday.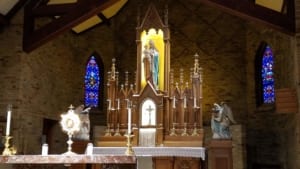 Additionally, there will Exposition of the Blessed Sacrament with Adoration daily in Chapel from noon until 3 PM Monday through Saturday and 12:45 PM until 2 PM Sunday until the 2 PM Holy Hour.

The Most Rev. David L. Ricken, Bishop of Green Bay,  opened the new Sunday Rosary Series for Families at Champion Shrine Sunday, Jan. 10, 2021 at 6:30 PM.   The Rosary for Families will continue every Sunday and families are encouraged to pray together on site at Champion Shrine at 6:30 PM or remotely at home by going to www.championshrine.org/livestream-rosary.
OUR LADY OF GOOD HELP, QUEEN OF FAMILIES NOVENA FEB. 1-9, 2021
The Our Lady of Good Help Queen of Families Novena will be prayed at daily Mass at 11 AM at Champion Shrine Feb. 1-9.  One prayer card has been inserted into the Winter/Spring 2021 Newsletter of the National Shrine of Our Lady of Good Help. Should you need more prayer cards for this Novena, please call the Shrine office at 920-866-2571. The Novena prayer and daily prayer intentions for Our Lady of Good Help Queen of Families Novena  may be sent directly to your email  by clicking the Novenas tab on this website and signing up.  You may also download the daily prayers with daily prayer intentions of Our Lady of Good Help Queen of Families Novena from the Recources page on this website.
Additionally, The Queen of Families Novena booklets are available for sale in in the Shrine gift shop for $5 each.  Call the Shrine Gift shop to order: 920-866-2571.
UPDATED  HOURS OF OPERATION, DAILY PRAYER OPPORTUNITIES WINTER, 2021:


IMPORTANT NOTE:
APPARITION ORATORY TO CLOSE JANUARY 25, 2021 FOR THREE WEEKS FOR HVAC UPDATES.
Daily:
Apparition Chapel, Welcome and History Center and Rosary Walk, Grottoes, Grounds:
7:00 am, until 7:00 pm cst
Shrine Gift Shop and Schoolhouse Cafe Hours:
9:00 AM, until 4 PM Monday thru Saturday, Sunday 12:30 PM until 4 PM  *
*The Shrine Gift Shop will also be closed for Inventory January 11-13, 2021.
 Mass is offered daily at 11 AM CST, with additional Mass times offered at 8:30 AM CST Tuesday and Saturday *
*Note: Restrictions and requirements are in place and will be followed for social distancing, room capacity and masking.. Sunday Masses will be offered in Mother of Mercy Hall,  Last Saturday Mass with Eucharistic Healing Prayer Service will be held in Mother of Mercy Hall. All other daily Masses to be held in the Apparition Chapel on site at Champion  unless otherwise noted on site.
Live-streaming of Mass will continue through this website and our Champion Shrine YouTube Channel at  8:30 AM Mass Tuesday, Saturday and at 11 AM Mass Sunday. 
Exposition of the Blessed Sacrament:
Mon.-Sat. Noon – 3:00 pm cst in Chapel daily; Sunday, 12:45 PM until 2 PM cst
Sacrament of Reconciliation:
10:00 am cst & 2:00 pm cst  in Chapel daily
Divine Mercy Chaplet:
3 PM cst daily in Chapel
Eucharistic Rosary Procession led by the Fathers of Mercy:  Sundays at 12:15 PM, Outdoor Rosary Walk behind Chapel following 11 AM (cst) Mass Time.
An Imporant Note about COVID-19 Policies at the National Shrine of Our Lady of Good Help:
Per the directive of the Diocese of Green Bay, in response to the State of Wisconsin Emergency Order #1, all persons entering any buildings at the National Shrine of Our Lady of Good Help should wear a face covering.
If you are an individual who is under age two, has trouble breathing or has a medical condition, intellectual or developmental disability, mental health condition, or other sensory sensitivities that prevent you from wearing a face covering, you are exempt from wearing a face covering.
We cannot ask you about your condition, therefore, if we see you without a face covering, we will assume you have some reason.
Remember, someone wearing a mask may have lost a loved one to this specific virus.
Remember, someone not wearing a mask may have suffered a face-covered trauma.
Christian charity in all things,  please!
Our Lady of Good Help, pray for us!
St. Joseph, Protector of the Universal Church, pray for us!"
For suggested guidelines, safety and other protocols set forth by the Diocese of Green Bay, please refer to the following: https://www.gbdioc.org/…/701-distribution-of-holy-comm…/file
For further updates: please stay tuned to the "Latest News" Section of the Champion Shrine website: www.championshrine.org
Individuals who wish to come to the National  Shrine of Our Lady of Good Help to experience the peace of this spiritual sanctuary, but have reservations about leaving their vehicles during the time in which COVID-19 restrictions are in place,  please know you will be permitted to park and pray in the lot to the right of the historic Apparition Chapel.  Many have experienced the graces of Our Lady just by being on site and praying here at the site of the only Church-approved Marian Apparition in the United States of America.
Please, feel free to park and pray at any time between 7 AM and 7 PM daily.
If you plan to come to the Shrine for personal prayer and reflection, we respectfully ask that you abide by social distancing requirements, both indoors and outdoors, and observe room capacity restrictions, as outlined on signage posted on all Shrine grounds and facilities.
The live recordings of Mass will be broadcast daily on the Shrine website www.championshrine.org,  and archived on the Shrine You Tube Channel @championshrine. To subscribe to the Shrine You Tube channel or direct link, click thru here:
Stay Tuned to this "Latest News" Section of Champion Shrine's website at www.championshrine.org.
If you would like to submit a prayer request to be included in daily Mass intentions, click here,https://championshrine.org/connect/.
If you would like to submit a donation to have a candle lit on site for you or someone you wish to lift up in prayer, click here: https://championshrine.org/donate/light-a-candle/
If you would like to make a general donation to enable to the Shrine to continue providing these and other planned services throughout this difficult time, please click here: https://championshrine.org/shrine-donation-form/