Encounter Jesus Through the Blessed Mother
To go on a pilgrimage is to evoke our earthly journey towards heaven (CC 2691), and to go on a pilgrimage to the National Shrine of Our Lady of Champion is to encounter the Lord through the closeness of our Blessed Mother in Heaven.
The National Shrine of Our Lady of Champion is an internationally recognized holy site where the Blessed Virgin Mary appeared. All are welcome to experience this humble and peaceful place of prayer and refuge – no appointment necessary.
Open 365 days a year, 7 a.m. – 7 p.m., the Shrine offers daily opportunities for the faithful to receive the Sacraments and pray.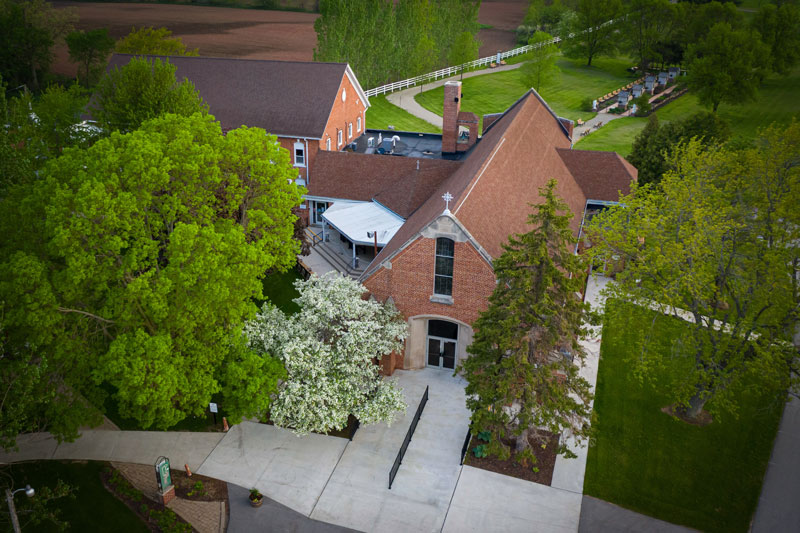 This place is truly where Heaven touched Earth!  You will find peace, joy and mercy, and connection with God and each other.  Our Mother's presence is still here, and she is ready to guide you to her son Jesus Christ. You will find deep connection with God in ways you have not experienced before.  It is a humble, quiet setting, where your heart can rest. The Blessed Sacrament is exposed from 12:00 pm to 3:00 pm every day after Mass in the Chapel.  Be prepared for a very personal encounter with our Lord.  If you are troubled, suffering, disabled, emotionally overwhelmed, or need a place to recover, and be refreshed, this is the place to come and adore!  The small cafe and lounge is a place of respite, quaint, warm friendly people to come together.  All faiths are welcome. The Fathers of Mercy have a special charism of Mercy which you will  find in the Sacrament of Reconciliation, and in their celebration of Mass, and homilies.
– David D.
Questions?
Questions related to travel or pilgrimage to the Shrine?
Our Pilgrimage Coordinators are Happy to Help
920-866-2571 ext 113
pilgrimage@championshrine.org